Welcome technology hand in hand with eroticism through this Lush wireless Bluetooth app vibrator. With an ability to be operated by means of a remote control, this high-tech bullet vibrator has been designed to let users enjoy solo play and even discreet public play. Since it can be controlled through an app along with Bluetooth, one can use it against each other from long distances. Just pick up your smartphone, activate the app, operate the remote and there you go. There are diverse patterns for vibrations that can be enjoyed every now and then.
Now have a look at some of its features:
·         Remote controlled bullet vibrator
·         Great for solo play, discreet public play and long distance couples
·         Bluetooth operated
·         Smartphone-friendly
·         Unlimited vibration patterns
·         Vibrations based on music
·         Microphone activated sound
·         Hands-free usage
·         Silent operation
If you are up to some sort of naughtiness, get this modernized bullet vibrator now and enjoy playing with your partner's genitals from long distances. Even if you are outside your bedroom but in the same house, you can make smart use of this 21'st century sex gadget with absolute pleasure. Visit an online adult toy shop and buy this product at a super affordable price.
Now keep your smartphone ready for some erotic fun apart from what have been doing with it. Have a look at this IRENA I Smartphone Controlled Vibrator, which is not only smart but also feature-rich. This powerful bullet vibrator can be directly controlled right from your iPhone or any smartphone powered by Android. Made with pure quality silicone, this bullet vibrator is quite comfortable to use and feels soft on the genitals. The operations are also quite easy to understand that would leave users with a superb experience.
Here are some more unique features of IRENA I Smartphone Controlled Vibrator. Take a look:
·         Stylish and elegant bullet vibrator
·         Android smartphone and iPhone controlled
·         Multiple control settings like motion, sliding, voice control etc.
·         Idea for Kegal trainers
·         On-screen customizable vibration through hands
·         Silent operation
·         USB rechargeable
·         Eco-friendly
·         Safe to use
·         Bluetooth enabled
Apart from these features, the IRENA I Smartphone Controlled Vibrator is completely waterproof. So, you can easily use it in your bath tub and have fun like you never had earlier with yourself or your partner. So, what are you waiting for? Just pick it up today from an online sex toy store and have fun day and night.
Here comes Lush 2, an amazing and technically enriched vibrator that would keep your hands-free while operating it with pleasure. Having Bluetooth enabled, it doesn't keep you waiting for its buttons to be tapped. Be it discreet public play or foreplay or solo, this remote-controlled vibrator lets you have unlimited fun both inside and outside your room.
Let's have a quick look at some of the special features Lush 2 has to offer:
·         Close range control
·         Different vibrating patterns
·         Remote control operation
·         Music operated device
·         Sound activated vibrations
·         On/Off button for convenience
·         Strong connectivity
·         Bluetooth chip enabled
·         Powerful motor
·         Excellent battery life
·         Easy to use and wireless
·         Silent operation
·         USB rechargeable
·         Waterproof and safe to use
·         Compatible with iPhone, iPad, Android 4.3, Mac etc.
Now you have so many reasons to grab Lush 2. Spend an awesome time with yourself as well as with your man who too will love using it just to make you see going wild. All android, iPad and iPhone users will now enjoy operating this incredible app controlled vibrator from any convenient place one wishes. Don't worry about its operation as it would ensure complete silence. Hurry and go for this vibrator now at an unbelievable price.
Product Description
Upgrade long-distance lovin' with Hush, a teledildonic butt plug designed to deliver interactive fun with your partner from anywhere in the world. The smooth silicone bulb emits powerful app-controlled vibrations for unparalleled pleasurable playtimes.
Perfect for short and long-term wear, this silken butt plug has a generous bulb tapering down to a slender, spiralled neck that fits perfectly between the cheeks. The flared base offers easy retrieval and has an operation button for full solo control.
Want to hand over the controls and surrender to your partner's sexual whims? Download the Body Chat app and allow them to control Hush from any distance. The app offers unlimited vibration possibilities and can be synced to music or specific sounds.
Slather with top-quality water-based anal lube to perfect your play and enjoy intense anal pleasure.
Key Features:
Luxury bluetooth-compatible silicone butt plug for long-distance play
Bulbous body for intense feeling of fullness
App offers unlimited patterns of vibration and can be synced to music or sounds
Tapered to a slim neck for comfortable prolonged wear
Spiralled design traps lube for easy retrieval
USB rechargeable for eco-friendly use anywhere in the world
Vibrator can be controlled from any distance via the Lovense Body Chat app
100% waterproof for aquatic adventures
Smooth silicone for body-safe play
2.5 hours of charge provides 1.5-2 hours of continuous use
We've crafted the most powerful vibrating butt plug on the market!
Because our plug is app controlled, you have full control of the range of power. Regardless if you want light or strong vibrations, you will find your sweet spot when it comes to vibration strength.

                     Low
Medium
High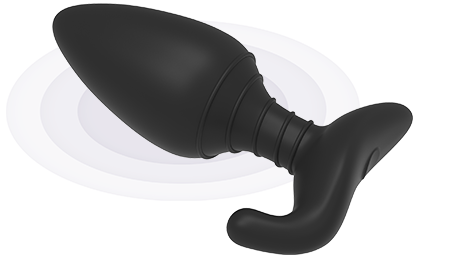 Most vibrating butt plugs
Higher end vibrating plugs
Hush, by LOVENSE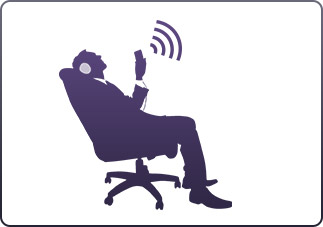 Solo Play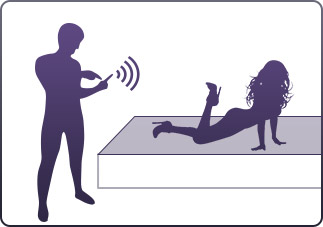 Foreplay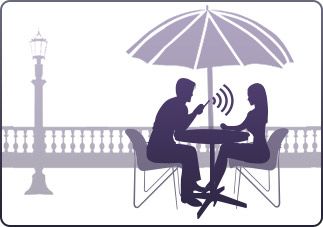 Discreet Public Play